This is a rare time in the year that Angelina Jolie goes out alone with her daughter. The actress has recently been busy with the role of a director.
Angelina Jolie and her daughter Shiloh Jolie-Pitt have just watched the performance of the band Maneski, the winner of the Eurovision 2021 contest, in Rome, Italy over the weekend.
Shiloh Pitt dresses simply but no less feminine when tying her hair up. At 16, Jolie's first daughter (Shiloh's three previous siblings were all adopted) is as tall as her mother. The older she gets, the more beautiful Shiloh is said to be.
Since their Eurovision victory last year, Maneskin have become global megastars – opening for The Rolling Stones and appearing on the likes of Saturday Night Live and The Tonight Show Starring Jimmy Fallon in the USA.
Angelina has been in Rome for work in her directing role on upcoming film Without Blood.
The star has been spotted on the streets of the city with her fellow cast and crew which includes actress Salma Hayek.
Without Blood is based on the international-bestselling novel of the same name by Italian writer Alessandro Baricco – with Angelina set to write, direct and produce it.
While the detailed plot of the film has not been revealed, the book focuses on the brutality of war, and a young girl's search for healing after an act of violence occurs.
According to HollywoodLife, it was Angelina Jolie who registered her daughter for a dance course from a young age. "Angelina works very hard to nurture the interests of her children. She allows them to take part in everything from art classes to computer programming to martial arts. The other kids have all learned to dance as well," the source revealed.
Meanwhile, Angelina Jolie left bare face to watch the show with her daughter. This is a rare opportunity for the actress to spend time alone with her children. After signing a three-year contract with the film production company, she mainly spent her time on set.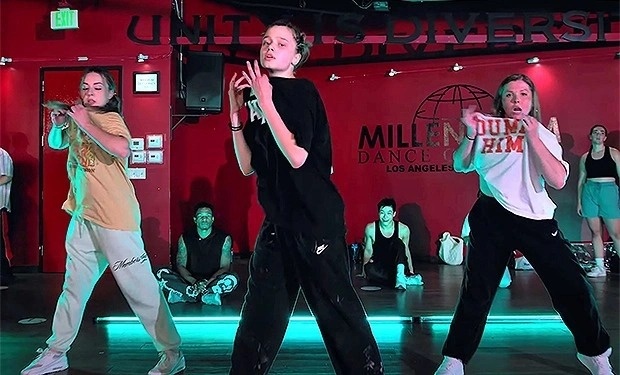 Recently, she is busy with the movie project Without Blood. This is the first project of the Maleficent movie star after she signed a three-year contract with Fremantle studios.
The actress will work on many film and television projects and documentaries. Without Blood is the 5th work that Angelina Jolie takes on the directorial role.
Without Blood is a film adaptation of the novel of the same name by Italian writer Alessandro Baricco. The work is about Nina, a girl who grew up after experiencing the pain of war, losing a loved one at the age of 4. At the age of 50, she meets the person who saved her life that year and reminisces about the tragedy of her childhood.