Keanu Reeves is one of the most beloved actors in Hollywood because of his charitable habits and modest lifestyle. Few people know that he has experienced many losses in life.
Keanu Reeves is one of America's top actors. He is famous for many hit movies from the 90s such as My Own Private Idaho, Bram Stoker's Dracula, Bill and Ted, Speed, The Matrix, John Wick…
After years of growing his career, the 57-year-old actor is now one of Hollywood's most beloved superstars, largely thanks to his generous off-screen lifestyle, sincere love for his massive fan base grave, the habit of charitable contributions and a quiet and humble life attitude. Many people always wonder, what makes Reeves different?
One of the reasons why Keanu Reeves is so different is probably his sad life. The hardships that the handsome star went through turned him into a kind, soft-spoken and very popular Hollywood star. The real life story of Keanu Reeves has touched many people.
Keanu Reeves was born in Beirut, Lebanon to an English mother and Chinese-American father. Reeves had a constantly moving childhood before settling in Toronto, Canada. When Keanu was only 3 years old, his father, Samuel Reeves abandoned his family including his wife and two young children. In the 1990s, Samuel was arrested for drug possession and sentenced to 10 years in prison. After being released from prison, the relationship between Mr. Samuel and Keanu Reeves also did not improve.
Keanu once told Rolling Stone magazine: "My father's story is quite heavy. It's full of pain, misery, loss, and all of that sucks." Apparently, even though Keanu and his father hadn't spoken in years, the pain between them remained. Given how young Keanu was when his father left the family, he must have gone through tough emotions in his childhood.
Keanu Reeves' mother, Patricia, also kept moving house after divorcing her husband. After settling down in New York, USA, she met and married director Paul Aaron in 1970 and moved to Toronto, Canada soon after. Sadly, their love story did not last. The two split the following year, but Aaron remained on friendly terms with Keanu Reeves and often gave him career advice.
The Reeves family lived in the Yorkville neighborhood of Toronto, Canada for many years. In 1976, Keanu Reeves' mother continued to get married and she separated from her husband after 4 years of marriage. Her next marriage to hairdresser Jack Bond lasted until 1994, by which time Reeves was already a famous star.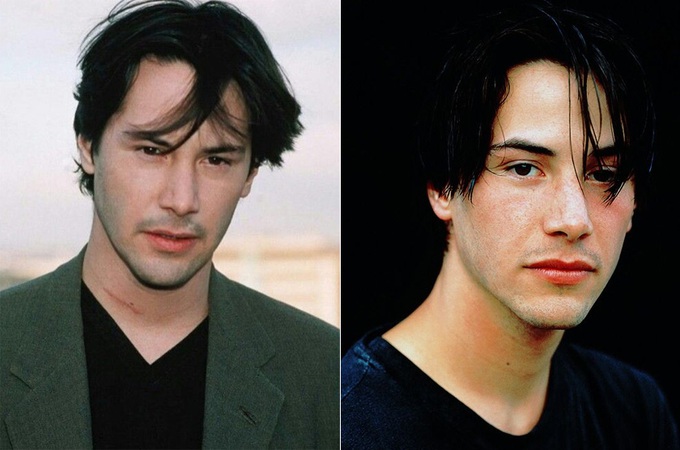 While in school, Reeves attended four separate high schools. He never earned a diploma and, in fact, Reeves was expelled from one of his schools. As the actor told the Daily Mail, "I went to four different high schools in five years. I study quite well, am good at English and write creatively. I joined the chess team. However it was a very small school and I guess I didn't fit in. I had conflicts and friction with teachers because I wanted to have autonomy and if someone wanted to impose something on me they and I would have problems."
Being asked to drop out of school was tough, but it inspired Keanu Reeves to get serious about acting. In the late 80s, Keanu Reeves received a number of big roles and gradually became a famous actor.
Keanu Reeves starred in two hit movies I Love You To Death and My Own Private Idaho and quickly became close friends with co-star River Phoenix. The close friendship between River Phoenix and Keanu is admired by all of Hollywood. Unfortunately, however, Phoenix is ​​too young to struggle with the pressures of fame. The actor used drugs and died of a drug overdose outside a nightclub in Los Angeles, USA at the age of 23.
The death of a close friend was a huge shock to Reeves and the actor told the Guardian in 2019: "Phoenix was definitely one of my best friends back then. We share an artistic sensibility. River is simple, spiritual, and a unique artist. I will always miss him."
In the late 90s, Keanu broke out of the rising star status and became an A-list actor. It was around that time that he met and fell in love with Jennifer Syme, a beautiful actress. Then, Jennifer became pregnant, but her unborn child died on Christmas Day 1999. The loss of their first child left Keanu Reeves and his girlfriend completely devastated.
Losing a child is one of the greatest tragedies a person can endure. Sadness and stress have caused Keanu Reeves and his girlfriend Jennifer Syme to "go their separate ways" although they still maintain close friends after the breakup. Months after breaking up, the couple still went out to dinner together and gave each other the same care as family members.
On April 1, 2001, Reeves met Syme at a popular American diner and the next day, his girlfriend died. At 6 a.m., Syme's car crashed into three parked cars. The actress was thrown out of the car and died instantly.
The successive tragedies that changed Reeves forever. A friend of the actor told People magazine: 'Keanu Reeves finds it very difficult to deal with the death of his ex-girlfriend. Years later, the pain still weighs on him."
Reeves once told Parade magazine: "Pain can change shape, but it never ends. People often have the misconception that you can deal with pain and think it goes away with time, but they are wrong. When the people you love are gone, you are alone.
In addition to losing his girlfriend and child, Keanu Reeves also has a sister he loves very much, Kim Reeves, who has been battling cancer for many years.
Keanu became his sister's primary caregiver in the early '90s and helped her recuperate while his acting career hit many ups and downs. The actor said, "My brother always does everything for me and I will always be here for him." Later, Keanu founded a charity to support cancer patients.
As an actor receiving a "million-dollar" salary, Reeves avoids the glamorous lifestyle of celebrities. The paparazzi often see him travel by public transport, dress casually on the street, chat with homeless people…
Recently, Keanu Reeves' continuous appearance with American artist Alexandra Grant made fans very happy for the actor. In the past, Keanu Reeves once said, he didn't think he would have a family after his sad past, but now, fans all hope Keanu Reeves meets better and luckier things in life.